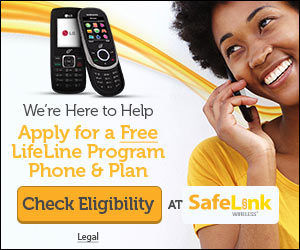 Remaining closer to the things that are important is easy with SafeLink Wireless®. We're here to help.
Free Cell Phone Includes: Unlimited Text + 500 Free Minutes* For the first 4 months then 350 Minutes thereafter. SafeLink Wireless® is a Lifeline supported service, a government benefit program.
Only eligible consumers may enroll in Lifeline. Lifeline service is non-transferable and limited to one per household. Documentation of income or program participation may be required for enrollment. SafeLink is provided by TracFone Wireless Inc.
Sorry this offer is not available in California, Idaho, Montana, North Dakota, South Dakota, Wyoming, Nebraska, Colorado, Oklahoma, and Vermont.
Must be 18+ to qualify for the FREE phone.